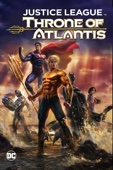 Justice League: Throne of Atlantis - Ethan Spaulding
Darkness, mystery, legend – these are the whispers that echo through time regarding Atlantis. A kingdom long since forgotten to surface dwellers, it is here that a hidden empire teeters on the brink of war. When a military submarine traversing this remote domain is attacked, Cyborg plunges to the murky depths to investigate the wreckage. What he encounters is a threat powerful enough to rally together the newly formed Justice League. Meanwhile,
Action & Adventure
Artist : Ethan Spaulding , Price : USD 14.99 , Released : 27 January 2015 © 2014 Warner Bros. Entertainment Inc. All Rights Reserved. Aquaman, Justice League and all related characters and elements are trademarks of and DC Comics.